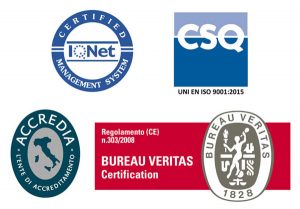 A high quality standard with regard to processes and activities is achievable through a constant upgrade in terms of offered services to ensure an improvement of Products, Services and Technologies offered to clients.
From 2008, ADM S.r.l. Is focused on the development of an efficient business management system, devoting its resources toward the optimization of services, perfectly complying with the requirements and expectations of clients.
ADM S.r.l. Has recently obtained the ISO 9001:2015 quality management certification, released by IQNet in association with CISQ/IMQ-CSQ, for the following activities:
Installation and maintenance of electrical and electronic systems;
Installation and maintenance of water sanitary, air conditioning plants;
Installation of fire detection systems.
In addition, ADM S.r.l. Has the F-GAS certification ( based on the CE 517/2014), conferred by Bureaus Veritas SPA, which licenses and regulates the installation,repairing and maintenance of air-conditioning plants, in compliance with the current regulations.